Want to make money, but you're not sure where to start? Don't worry, we've got you covered.
And you're not alone. Some 16% of adults performed a side gig in the previous month to help them make extra money and, of those, 64% spent less than 20 hours doing those jobs during that period, according to the Economic Well-Being of U.S. Households in 2021 report, released in May 2022 by the Board of Governors of the Federal Reserve System.
NerdWallet rounded up 25 real ways to make money at home, online or out and about. For each potential side job, we list details like what it takes to get started, age requirements and how fast you can get paid. While most people want to make money fast, don't discount the "slow" gigs, as they may pay more in the long run.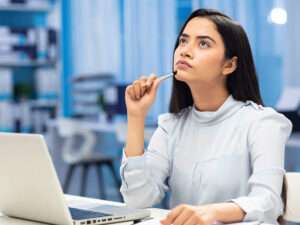 How to make money online

How to make money from home
How to make money offline
Making money online is the sweet spot people look for in the gig economy. Whether you aspire to be a six-figure social media influencer or are just looking to supplement your regular income with some online side jobs, we've found some viable options.
1. Pick up freelance work online
Make money online through websites such as Upwork, Fiverr and Freelancer.com. These sites offer opportunities to do a variety of freelance jobs, such as writing, programming, design, marketing, data entry and being a virtual assistant. Fluent in a second language? Check sites such as Gengo or Blend Express, or drum up business through a site of your own. No matter what freelancing you do, keep track of the going rate for the kind of work you provide so you know if you're charging too much or too little. Learn how to get started on Upwork.
Total time: It can take a while to get your first gig. Setup: 24 hours. How easy to start: Easy, if you have the expertise. How fast you'll get paid: Varies by site.
2. Test websites and apps
Another way to make money from home is on sites like UserTesting.com. You get paid for your thoughts on how well — or not so well — certain websites and apps worked. You'll have to complete a short test to be accepted, then you'll be paid depending on the test type. UserTesting.com does not disclose an exact amount.
Total time: Approval time can vary. Setup: Less than an hour. How easy to start: Easy, if you have the tech gear and complete a sample test. Age threshold: 18+. How fast you'll get paid: Seven days.
3. Pick up tasks on Amazon's Mechanical Turk
Even in the age of automation, some jobs still require a human touch. Companies often outsource those jobs via services like Amazon's Mechanical Turk. As a "worker," the tasks you'll be assigned can be tedious — tagging images, transcribing videos, classifying receipts — and can take anywhere from a few minutes to a few hours. Temporary employers or "requesters" set the price for each task and get to approve the finished product before paying you. That can leave room for scams, so do your research. Join a community like the MTurk Crowd forum, or the MTurk and Turker Nation subreddits, which can steer you away from shifty dealers. These communities and fellow "workers" can answer questions and give a realistic idea of how much money you can expect to make. Read more about Mechanical Turk as a way to make quick money online.
Total time: Several days to find out if you're approved. Setup: Depends on the task you choose. How easy to start: Easy if you have certain skills. Age threshold: 18+. How fast you'll get paid: You get paid following work approval, which can take up to 30 days.
4. Take surveys for money
You can make money from home by taking online surveys, but don't expect to be rolling in the dough. Survey sites don't typically offer a big payoff, and many sites are more useful for earning gift cards than cash. Some of the more popular survey sites include Swagbucks and Survey Junkie. Read our analysis of survey sites to find out which one is best suited for you.
Total time: It will take a while. Setup: Just minutes. How easy to start: Very. Just register and begin. Age threshold: 13 to 18+. How fast you'll get paid: Varies by site.
5. Make money from your blog as an affiliate
If you're a blogger who gets decent traffic, you could make money by joining an affiliate network. Affiliates (that's you) get paid when someone clicks through from the website to the partner site and buys something there. Some bloggers make a lot of money this way. Read more about affiliate marketing and other ways bloggers can make money.
Total time: It can take quite a while to build an audience. Setup: With blog templates, building a site is easy. How easy to start: Starting is not that difficult. Creating regular content may be another matter. Age threshold: Any. How fast you'll get paid: A month or two, on average.
6. Sell your wares on Etsy
Have a penchant for woodworking, jewelry-making, embroidery or pottery? Sell your goods on Etsy, the go-to site for artisans selling home goods, art and knickknacks. Etsy boasted about 96 million active buyers and grossed over $13.5 billion in merchandise sales in 2021, according to data from Statista. Learn more about how to make money on Etsy.
Total time: It might take quite a while for customers to find you. Setup: Can be quite involved. How easy to start: Leaning toward "hard" on the difficulty meter. Age threshold: 13+. How fast you'll get paid: From the next day to seven days after a sale.
7. Get advertising revenue from your blog or YouTube channel
Turn your cat videos into cash videos. If your YouTube videos or blog posts draw a big audience, you may be able to make money from advertising. YouTube sets 1,000 subscribers as the benchmark creators must make before applying for the YouTube Partners Program. YouTube Partners then get access to Google AdSense, a service businesses pay through to advertise around your content. The service is free, but there are requirements you must meet. Read more about how to make money on YouTube and Google AdSense.
Total time: It can take several weeks to get up and running. Setup: Not that hard. How easy to start: Depends on how good you are at producing interesting videos. Age threshold: 18+. How fast you'll get paid: Could take a long while to earn the first payout; then monthly.
8. Become an Instagram influencer
Companies are using Instagram influencers — people with large, dedicated followings on the platform — to rep their products. You can get in on the action by applying for opportunities via a marketing platform like Open Influence or Aspire, or by contacting the brands you want to work with. Read more about how to make money on Instagram. (You can also make money on TikTok this way.)
Total time: You'll need to stick with it. Setup: Quick and easy. How easy to start: Not that easy. It's a very competitive platform. Age threshold: 13+. How fast you'll get paid: Varies on partnerships.
9. Monetize your Twitch channel
Gaming could be a way to make money from home if you have a steady following on Twitch, the go-to site for gamers. Broadcasters can receive donations from viewers and even get a share of subscription and ad revenue if they reach Affiliate or Partner status. Learn more about how to make money on Twitch.
Total time: This can be a long game. Setup: Quick and easy. How easy to start: Easy to start; takes a while to build a following. Age threshold: 13+. How fast you'll get paid: Monthly.
10. Sell your photography
Turn your photographs into cash via sites like Fine Art America, which lets you upload your images to sell as prints, T-shirts, phone cases and more. Other marketplaces for photographers include SmugMug, 500px and PhotoShelter. Some sites require a subscription but may provide features ranging from cloud storage to password-protected galleries and a customized website.
Total time: Buyers need to find you — and like your work. Setup: Just a few hours. How easy to start: If you have a library of photos, you're on the way. Age threshold: Any. How fast you'll get paid: Depends on your sales platform.
How to make money from home
Some side hustles don't even require you to leave the house. Or if they do, it might just be a short walk around the block with a furry friend. Working from home requires a little creativity and a stick-to-it spirit.
Here are some excellent ideas for side gigs from home:
11. Become a dog walker or dog sitter
Love dogs? Make money by becoming a dog walker. Apps like Wag and Rover offer on-demand dog walking, so you can pick up walks when your schedule allows. If you have space (and your landlord's permission, if you rent), you could offer overnight dog boarding. Read the fine print if you sign up for these services
Total time: Building a client base may take some time. Setup: Takes about a week or so. How easy to start: Love pets? You're good to go. Age threshold: 18+. How fast you'll get paid: Two days to a week.
12. Sell unused gift cards
Make extra money by selling unused or partially used gift cards on a site like CardCash or GiftCash. These websites say they will pay you up to 92% of the card's value. On CardCash, you can also trade in your card for one you'll use. Read more about what to do with unwanted gift cards.
Total time: Depends on the popularity of the gift card. Setup: Easy. How easy to start: The more gift cards you have to sell, the better. Age threshold: Old enough to have a credit card. How fast you'll get paid: Varies by sale method.
13. List your spare bedroom on Airbnb
Renting out your home or spare bedroom on vacation rental sites is another way to make extra money. Be prepared to spend some money to clean and keep up the property, replace home goods and pay toward service fees. And scrutinize your rental agreement before you get started.
Total time: Demand drives success, and that depends on your location. Setup: A listing can be created and live in hours. How easy to start: If you have a place to rent, it's a simple process. Age threshold: 18+. How fast you'll get paid: About one day.
How to make money offline
There's online and at-home ways to make extra money — and then there's a third alternative: offline. This version of the gig economy may require a little more legwork, but the upside can be substantial. Here are offline ways to make money:
14. Sell your gently used clothes
Selling clothes you no longer wear is a quick way to make some money. Start with local consignment shops to make money quicker or use sites like ThredUp and Poshmark to find buyers. If you go the online route, be sure to take clear, well-lit photos of your pieces and research similar items to set competitive prices. Get tips on how to sell your clothing.
Total time: Varies by sales channel. Setup: Easy and fast. You can simply go to a consignment shop or fill a box with clothes and send it in. How easy to start: Easy. Cleaning out the closet may be the hardest part. Age threshold: Any. How fast you'll get paid: Varies by sales channel.
15. Trade in old phones, electronics for cash
Have an old phone, iPad or gaming system lying around? Sell it on a site like Swappa or Gazelle. Check out Amazon's trade-in program, which pays participants in Amazon gift cards — and eBay, too. If you're in a rush, try an ecoATM kiosk, which offers cash on the spot for your device.
Total time: Lots of options, so your time spent will vary. Setup: A breeze. How easy to start: Easy. Have phone, sell phone. Age threshold: Any. How fast you'll get paid: Varies by where you sell.
16. Get a babysitting gig
Everyone from college students to recent retirees can make money by watching other people's children. Word-of-mouth referrals from friends and family are still a great way to get started, but you can also create a profile for free on Care.com or Sittercity to expand your reach. Note any specialized skills, such as CPR certifications, to make yourself more marketable.
Total time: Online setup takes minutes; neighborhood referrals may take a while. Setup: Just minutes. How easy to start: Getting the word out is the main thing. Age threshold: Very young if you're using referrals. 18+ online. How fast you'll get paid: When the parents come home.
City-dwellers often don't use their cars for days or weeks at a time. That idle time can translate to extra money with services like Getaround and Turo, which let you rent out your car by the hour or day. You take home the majority of those earnings, while Getaround or Turo takes a cut for protecting your car while it's being rented.
Total time: Demand for your car will depend on the local market. Setup: It takes about a half hour to set up an account. How easy to start: With an appropriate vehicle, it's easy. Age threshold: A valid driver's license and 21+. How fast you'll get paid: Varies by site.
18. Sign up for TaskRabbit
If you actually enjoy putting together Ikea furniture or standing in long lines, you may be cut out for doing tasks for others. Websites like TaskRabbit can connect you with people who need help with a variety of things, such as moving, cleaning, delivery and handyman services. The site also offers several virtual and online tasks, such as helping with a research project or data entry. Read about how to get started on TaskRabbit.
Total time: Local demand for your skills will determine the time you spend. Setup: A couple of hours, then some time for approval. How easy to start: Easy, though you'll need to do some research. Age threshold: 18+. How fast you'll get paid: A few days after a job.
19. Become a private tutor
Parlay your math, science, foreign-language or test-prep expertise into a lucrative side gig by becoming a private tutor. You can tutor people online or in-person. What you charge can depend on your experience, expertise and what's in demand. To get started, see what types of tutors are needed on Craigslist or create a profile on sites like Tutor.com or Care.com. You can also advertise your services at local schools and community centers.
Total time: Varies by subject matter. Some companies might require a minimum availability per week (e.g., Tutor.com requires 5 hours). Setup: Can be a bit involved. How easy to start: Students will have to find you, and that might take a while. Age threshold: Any. How fast you'll get paid: Usually pretty fast; often right away.
Join Uber or Lyft (or both) and make money by driving passengers around. Just don't forget to factor in gas and maintenance costs. You need an eligible car in good condition and must agree to a background check and a review of your driving history. Learn how to become an Uber or Lyft driver.
Total time: Depends on your market demand. Setup: A few weeks. How easy to start: Not difficult, but you'll need the right type of vehicle. Age threshold:  Licensed to drive in your locality with one year of licensed driving experience (or three years if you're under age 25). How fast you'll get paid: Very fast. Either instantly or within days.
21. Make deliveries for Amazon, Uber Eats
Take advantage of the growing delivery trend and sign up for a service like Instacart, Uber Eats, Postmates, DoorDash or Amazon Flex. You get paid per delivery, in most cases, and can even earn tips. A car isn't always required — Postmates and, in some cities, DoorDash, lets you use a bike or scooter to make deliveries. However, a background check almost always is part of the deal. Learn more about how to get started with Amazon Flex, Uber Eats and Instacart.
Total time: Depends on your market demand. Setup: About a week. How easy to start: Easy, if you have dependable transportation. Age threshold: 21+. How fast you'll get paid: Varies by vendor.
22. Find work as a housesitter
If you're willing to watch someone's home — and maybe feed the pets, water the plants and take out the garbage — become a housesitter. Tap your personal network for referrals or try out HouseSitter.com, which connects homeowners with housesitters. People often make $25 to $45 a day, according to the company's website.
Total time: Depends on your market demand. Setup: Minutes — or more if you try to drum up business by referrals. How easy to start: That can depend on the need in your area. Age threshold: Varies by site. How fast you'll get paid: At the end of a gig.
23. Sign up to be a mystery shopper
Businesses often want to know how they're performing from a customer's perspective. Sign up to be their eyes and ears. You can apply online via sites like IntelliShop, BestMark and Sinclair Customer Metrics. Just beware of scams and do thorough research before signing on.
Total time: Varies by site. Setup: Applying takes little time, but approval can take a while. How easy to start: Relatively easy if you have required transportation and tech. Age threshold: May vary by site, but typically 18+. How fast you'll get paid: Varies by company.
Need a gig for a few months? Try something seasonal, like being a lifeguard, shoveling snow or working at a retailer during the holidays. Employers typically staff up a month or two before their busy season, so plan ahead to get on their payroll. Check storefront windows, Craigslist and local classifieds for seasonal opportunities.
Total time: Varies by job. Setup: Job searches and interviews can take weeks. How easy to start: Not difficult, particularly if you have skills that fit your market. Age threshold: Minimum age depends on the job. How fast you'll get paid: Varies by company.
25. Put your drone to work
The market for drones is expanding. Companies hire out work like aerial inspection, photography and land mapping. So if you're already a drone enthusiast, why not make extra money with your aircraft? You first need to register it with the Federal Aviation Administration and obtain certification from the agency for commercial use. Then, you can apply for gigs as a drone pilot. Learn how to make money with drones.
Total time: Depends on demand. Setup: You'll need to make time to pass a test. And then find clients. How easy to start: If you already have a drone, you're likely qualified. Age threshold: 16+. How fast you'll get paid: Varies by company.
source -https://www.nerdwallet.com/article/finance/how-to-make-money
Best Ways to Make Money Online
If you have a computer and a good internet connection, you can easily make money online. There are countless ways to earn online, from cashback and reward sites to minimum wage data entry. The internet has made money creation and entrepreneurship easier than ever before. This digital economy also gives you flexibility and time freedom. For example, you can use Flexjobs to find online jobs that allow you to work from home. Airbnb is another great way to earn money while traveling. It saves you on rent and allows you to be your own boss.
If you have two languages, you can work as a translator. Most companies require that applicants take a translation test. You can also earn passive income by renting your car or promoting affiliate products. Some of these jobs only require a small amount of time and require no special skills. Whether you want to make money online, sell craft items, or use a combination of these options, the possibilities are endless.
If you're good at maths and science, you can earn extra cash by tutoring others. There are several free websites that offer such services. However, you'll need to know that there are specific criteria that you must meet before you can get the offer. Moreover, the payments are usually higher for handwritten notes than typed ones. Lastly, if you don't have a car, you can also make extra cash as an Uber driver or delivery person. You can even use your moped or bicycle to deliver essentials.
Another great way to make money online is by selling your old stuff. This is a great way to make extra money, but you have to make sure that the items you want to sell are still worth their worth in the market. You can also sign up for rewards credit cards for a $10 sign-up bonus, which allows you to earn cash on purchases. Another option is to use coupons and toolbars that offer great discounts.
Creating online courses can also be profitable. With so many people looking for ways to make money online, there is a huge market for these courses. Creating an online course can allow you to create passive income from the comfort of your own home. People who are looking for specific information or want to learn more about a particular subject will pay you a fee.
Another good option for making money online is selling your own clothes. Just make sure to comply with city regulations and homeowners' associations. You can also try consignment shops and online sites to sell your old clothing. Make sure to take great photos of your items and set competitive prices. You can earn up to $200 per month from these methods if you have a full-time job.
Other methods of earning money online include freelance writing and editing services. For instance, a writer who has expertise in a niche can offer a fresh perspective on a subject. Brands often seek someone with insider knowledge of a particular area to provide fresh content to their customers. You can also create side gigs on the side to supplement your regular paycheck. However, these types of jobs often do not last long.